Proft Genealogy
---
Father Franz (Frank Sr.) PROFT Family Picture Chart Page
Paul Proft Sr.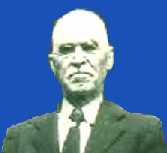 January 27, 1866 - January 1, 1948
Paul Proft lived for 81 years, 11 months, 5 days or a total of 29,923 days
---
Son of Franz (Frank Sr.) Proft and Theresia Wolf. Step Mother: Catherina
---
Father: Franz (Frank Sr.) Mother: Theresia Wolf Stepmother: Katherine
Siblings: Frank, Joseph, Wenzel, Anton, August (Gus), Adolph, Maria,
Karl, 1/2 sister Emma, 1/2 brother William, Step brother Anton Burgan
---
Paul was 15 years old when he made the December 1881 voyage to America with his family
---


1888 Wausau City Directory
Interesting, Sister Mary (Maria) is staying with her brothers, she relocated to Bessemer, Michigan and married Bartel Hoffner.
Mapquest Map - 5th and Fulton Streets, Wausau, WI
---


1890 Wausau City Directory
Mapquest Map - 713 Lincoln Ave., Wausau, WI
---
1900-1901 Merrill City Directory at the time Paul Jr. was an infant
---
On April 6, 1893 Paul Sr. married Hattie E. Kohnke in Merrill, Wisconsin. Hattie was born in Marquette County, daughter of Gottlieb and Henrietta "Sonn" Kohnke .

Subscribing witnesses were Mary Kohnke and Joseph Proft. Ernest A. Dunn pronounced the civil marriage. It was a very short marriage lasting a little over 6 months, since first wife Hattie died 10-18-1893 at the young age 20 of typhoid fever and pneumonia. Lincoln County death record, volume 1, page 82, #01778 for "Mrs. Paul Proft" indicates her occupation as a housewife and that she was buried in the Merrill cemetery. The "Hattie" headstone marker is for Paul's daughter Hattie who died at the young age of 18. Daughter Hattie was born 1-9-1896 and is the procreation result between Paul and his 2nd wife Maggie. Apparently daughter Hattie was named after his 1st wife Hattie.

On June 24, 1894 Paul Sr. married Margaret Rossa in Merrill, Wisconsin. Margaret was born in Poland, daughter of Andrew and Catharine (Gollatta) Rossa. Subscribing witnesses were Clement Weiler, Anna Borhm, Joseph Emerich and Ameilia Kohn. Rev E.F. Van Hootegem pronounced the Roman Catholic Rite ceremony.
---
Children
Hattie - born January 9, 1896 | Still born male born - December 10, 1897 | Paul Proft Jr. - born April 6, 1899
---
Lincoln Death Records Volume, Page 181 #2256 - 1.) Full name of Child:, (stillborn), 2.) Maiden name, (if wife or widow): white, 3.) Color: white, 4.) Sex: male, 5.) Race (s): (blank), 6.) Occupation: Labor, 7.) Age (years, months and days): (blank), 8.) Name of father: Paul Proff, 9.) Birthplace of father: (blank), 10.) Name of mother: (Maggie Proff), 11.) Birthplace of mother: (blank), 12.) Birthplace of deceased: (blank), 13.) Name of wife of deceased: (blank), 14.) Name of husband of deceased: (blank), 15.) Date of birth of deceased: (blank), 16.) Condition (single, married, widowed): (blank), 17.) Date of death: Dec 10 - 1897, 18.) Residence at time of death: (blank), 19:) Cause of death: (blank), 20.) Place of death: Merrill, Wis, 21.) Duration of Disease: (blank), 22.) Was the deceased ever a soldier or sailor in the service of the United States? (blank), 23.) Place of burial: Merrill Catholic Cem, 24.) Name of undertaker or other person conducting burial: (blank), 25.) Date of certificate: (blank), 26.) No. burial permit: (blank), 27.) Date of burial permit: (blank), 28.) Other important facts not related: (blank)
---
1895 Wisconsin Census Excerpt - Paul's family recorded residing in Merrill, Wisconsin
Paul purchased his 307 Eugene St. Merrill, WI lot - May 1, 1893 for $60 - Grantee Volume 42, Page 297
Mapquest - 307 Eugene St. Merrill, WI
Below is an excerpt of the 1901 Marathon County Township 29 North Range 3 East plat book record. The Proft family owned land in Section 15 (original farm) and as you can see below Wenzel and Paul had 80 acres in Section 8. So I assume Paul owned this 80 acres while living in Merrill, perhaps even prior to moving to Merrill. (In the 1909 Plat record , this parcel is owned by Mary Kiehl). Perhaps Wenzel was farming it prior to the sale to Mary. Also, notice at this time the original 80 in Section 13 is now divided into 40 acres, with son William owning the back 40 of Frank's original 80. The Rietbrock Land and Lumber Company owned much of the land in this township at this time. Note the spar railroad that ran close to the farm and the Town of Cornith Post Office. Corinth Post Office was established October 5, 1895, with Otto Newmann as postmaster. The office was discontinued January 1, 1934, with mail service from Athens. It was located in the SW 1/4 of Section 10, T29N R3E in Johnson Township. Also note the "school" notation on Wenzel's 80 in Section 8.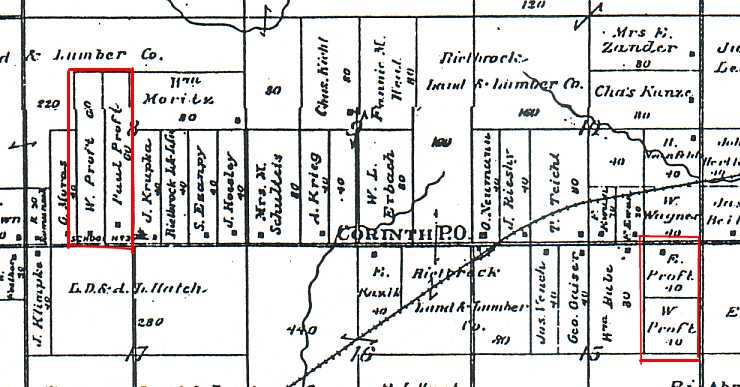 Google Map location of Paul's land, adjacent to his Brother Wenzel's - GPS N45:00.270 W090:10.298
Mapquest location of Paul's land
Courtesy of the Marathon County Historical Society - Wausau, Wisconsin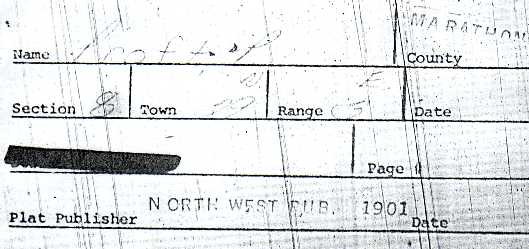 The land index card record that was obtained from the Wisconsin Historical Society - Madison, Wisconsin


June 1, 1900 12th US Census above - Paul was apparently farming in the Township of Johnson - Section 8 - Marathon County, Wisconsin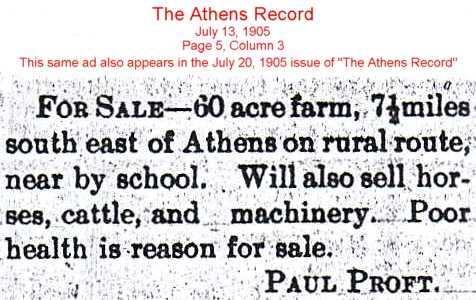 November 3, 1904 Corinth Column - Paul and Maggie and others visit Mrs. Frank Proft last Sunday
Residence and Household members during the 1910 Census Records.
---
May 9, 1909 Merrill Daily Herald - Tremont House changes name to the Commercial House
Commercial House - May 13, 1914 Newspaper article
May 28, 1914 Merrill Daily Herald article about John Burns former owner of the Commercial House Hotel
In 1911 Paul and Maggie became the proprietors of a boarding house named the "Commercial House Hotel" on Merrill's west side, located at 600 W Main St. Merrill, WI , the former "Hotel Burns" and "Tremont House". The Commercial House had 21 guest rooms. Under the "American Plan" rates were $1 per day which included a home style cooked meal. This boarding house was mentioned in a 1990 published pamphlet titled "A Night's Lodging, by Prue Justas; mentioned on pages 31 and 42, (located at # 5 on this map excerpt) . Their daughter Hattie died at this location April 17, 1914
West Main Street westerly view towards the Commercial House 1914 and 2008
Commercial House Location Picture Today
Google Map - 600 W Main St. Commercial House Location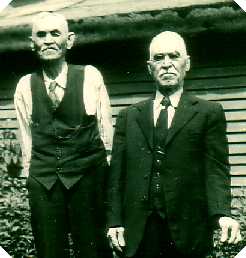 Joseph and Paul. This picture was likely taken at Paul's 3rd St. Merrill, WI residence.
---
Residence and Household members during the 1920 Census Records
Parents Frank and Step Mother Kathrine stayed with he and his wife. Frank died 2 years prior to this 1920 Census Records.
---
Paul purchased his 108 E. 3rd St. Merrill, WI property - May 18, 1915 for $700 - Grantee Volume 90, Page 472
Resided at: 108 3rd Street, Merrill, Wisconsin

Paul Sr worked and retired from the Anson and Gilkey window sash-door plant in Merrill, WI
The 1920 Census Records indicates Paul Sr's occupation as a janitor in a parochial school. Likely a retirement job.


1923 Merrill City Directory Excerpt
---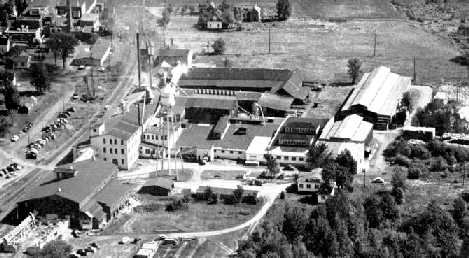 Paul worked at Anson-Gilkey & Hurd Co. (view looking east on Logan Ave from Keyes St.)
---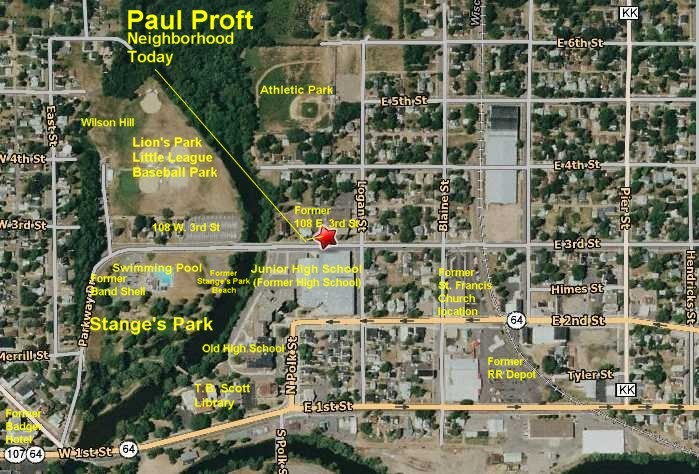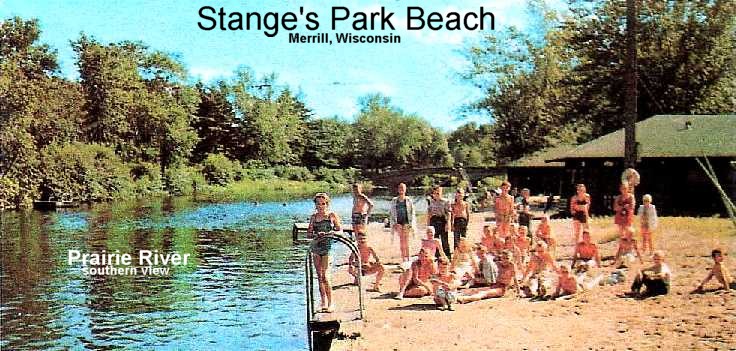 Stange Park Beach, where the Proft kids went swimming while living at Grandpa Paul's house
---


April 2, 1930 Census - Only Paul and Maggie living at 106 Third St. (not 108 Third St.?) in Merrill's 7th Ward.
---
Happy 73rd Birthday Paul Sr. - Merrill Daily Herald - January 27, 1939 Newspaper article
---


1936 Merrill City Directory Page 112 Excerpt 108 E. 3rd St.
---

---


1941 Milwaukee City Directory Excerpt Page 928
Paul Sr. is living at 1908 E. Webster Place Milwaukee, Wisconsin
June 5, 1942 Paul Sr. signed an "Affidavit of Birth" for his niece Mary Frances PROFT
Paul Jr. is living at 2300 E. Webster Place Milwaukee, Wisconsin
---
Paul Proft Sr.
January 27, 1866 - January 1, 1948
Paul Sr. died Thursday January 1, 1948 8:08 A.M. of general coronary arteriosclerosis in Milwaukee, WI
---
Daughter Hattie Born 1-9-1896 Died 4-17-1914

Lincoln Birth Records Volume, Page 56 #0248 - 1.) Full name of Child:, (blank), 2.) Color: white, 3.) Sex: female, 4.) Name of other issue living: blank, 5.) Full name of father: Paul Proft, 6.) Occupation: Labor, 7.) Full name of mother previous to marriage: Maggie Raas, 8.) Hour, day of week, of month and year, of birth: Jun 9 - 1896 2 P.M., 9.) Place, town or township and county in which born: Merrill Lincoln Co., 10.) Birthplace of father: Germany, 11.) Birthplace of mother: ", 12.) Name of physician or person signing certificate or affidavit: Mrs E.P.Steifvater midwife, 13.) Residence of person last named: Merrill, Wis, 14.) Date of certificate or affidavit: Jun 11th, 1896, 15.) Date of registration: " 14 ", 16.) Any additional circumstances: (blank)
---
Wife: Maggie (Rossa) 2nd wife Born October 27, 1870 - Died July 11, 1940
Merrill Daily Herald July 11, 1940 Page 1, Column 5

GPS N45:10.935 W089:40.009

---
---
Paul Proft Jr.
April 6, 1899 - May 12, 1959
---
Born 4/6/1899 1:10 AM delivered by

Dr. L.B. Collier, MD in Merrill, Wisconsin

Paul's Baptismal Record St. Francis

Baptismal Index 1896-1906 St. Francis

Merrill KEMO Yearbook Paul Jr. on the Merrill High School 1915 Championship Track Team

Merrill Star-Advocate Thursday July 5, 1917 "County Enlistment!" Front Page Article - Private Paul Proft listed

Merrill Daily Herald Tuesday July 24, 1917 "Lincoln County's Heroes" Front Page Article - Private Paul Proft listed

Merrill Daily Herald Saturday May 11, 1919 Battery "F" Members- Private Paul Proft listed

Merrill Daily Herald Tuesday May, 18 1919 War Mothers Society Has Many Members - Mrs. Paul Proft listed
Paul Jr with his cousin Josephine

Since Paul Jr. was born 4/6/1899 and President Woodrow Wilson asked for a declaration of war April 2, 1917. This picture was most likely taken when Paul Jr. was age 18, late 1917 or 1918.


(click on image to enlarge)
---
Peter Paul Proft Jr. and Virginia had children; George Edward (PROFT) b.1924, Margarette Mary b.1927, premature unnamed female b. d. 1929, Delores Virginia b.1931, Naoma Louise b.1933, Patricia Ann b.1934 d.2000
Paul and Virginia had a daughter born 7 1/2 months premature, died 10-27-1929 6 P.M. and was buried 2 days later in -
Holy Cross Cemetery, Milwaukee, WI Block 17, Section A, row 14 and Grave 92


April 7th & 8th, 1930 Census - Paul Jr., wife Virginia, son George and daughter Margureat living at 625 20th Milwaukee, Wisconsin
Paul Jr. is employed as a mail carrier for the US Postal Service
---


1932 Milwaukee City Directory Page 1283
---


1941 Milwaukee City Directory Excerpt Page 928
Paul Sr. is living at 1908 E. Webster Place Milwaukee, Wisconsin
June 5, 1942 Paul Sr. signs an "Affidavit of Birth" for his niece Mary Frances Proft
Paul Jr. is living at 2300 E. Webster Place Milwaukee, Wisconsin


July 1, 1948 Locals Column - Athens Record - Virginia was a Wausau visitor Thursday
---


1959 Milwaukee City Directory - Page 1103 Excerpt - 6620 W. Sheridan Ave. Milwaukee, WI
---
| | |
| --- | --- |
| | 1966 Milwaukee City Directory Page 1185 |
---
Paul Jr. and his wife Virginia

1940 Sixteenth US Census Paul Jr.'s family

is residing at 2300 E. Webster Place 1940 - Census Page Continued with the Children Listed

Spouses share the same grave site and headstone marker

Buried in Wood National Cemetery Milwaukee, WI

6620 W. Sheridan Ave. Milwaukee, WI
Milwaukee Journal May 13, 1959 Page 3, Column 3

---


GPS Location: N43:01.665 W087:58.862

PFC BTRY F 120TH FIELD ARTY WWI,
Plot: 31-A, ROW 9 Grave 10; bur. 05/14/1959

Paul and Virginia Headstone Print

Milwaukee Journal September 12, 1982 Page 6, Column 4

Spouse's information inscribed on the backside of marker
Proft, Virginia, b. 11/23/1901, d. 09/11/1982,
Plot: 31-A, Row 9, Grave 10; bur. 09/14/1982
---
Visitor's at the Rach's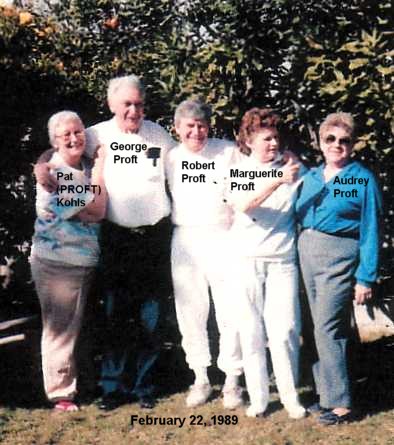 ---
Merrill, Wisconsin Research Trip March/April 1993
| | |
| --- | --- |
| Merrillite Chocolate Company expedition for brother George PROFT | |
---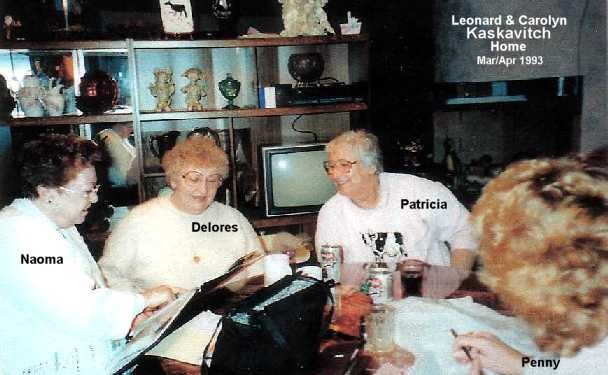 Link to April 11, 2006 Photograph of Ken Hintzman and Margarete Rach

(click on image for full size image)


(Click on image for full size image)


(click on image for full size image)
Pictures of Herman Proft's June 1994 visit with Margaret Rach | 1 | 2 | 3 | 4 | 5 | 6 |
---
George and Audrey Proft Family

(click on image for full size image)
George and Audrey Proft

Audrey Joy Proft Obituary


(click on image for full size image)
Gail and Gerald Proft


(click on image for full size image)
Mary and Steve Wallace


(click on image for full size image)
George and Audrey Proft Children
Barbara Post, Mary Wallace, Gerald and Edward PROFT

Gerald P. Proft Obituary


(click on image for full size image)
George and Audrey Proft Family
---
Patricia (PROFT) Kohls
Patricia Proft (Kohls) Pictures during a 1992 visit to the Proft farm...... | 1 | 2 | 3 | 4 | 5 | 6 | 7 | 8 | 9 | 10 |
Patrica Ann (PROFT) Kohls
November 24, 1934 - March 30, 2000


Milwaukee Journal Sentinel March 31, 2000 Page 48 Column 3

George Edward Kohls
April 2, 1934 - July 4, 1991


Milwaukee Journal July 5, 1991 Page B-4 Column 2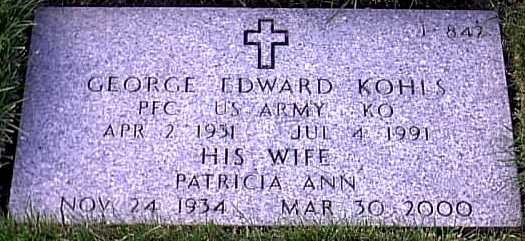 GPS N43:01.307 W087:58.893
Grave - Google Map Location - Section J, Site 842 - Wood National Cemetery
George and Patricia Kohls Headstone Print
---