Proft Genealogy
---
Father Franz (Frank Sr.) PROFT Family Picture Chart Page
---
Karl(Carl) PROFT
1874 - ?
---
Karl lived for ? years
1874 - ?
Father: Franz; Mother: Theresa Wolf
---
Father: Franz (Frank Sr.) Mother: Theresia Blum
Siblings: Frank, Joseph, Wenzel, Anton, August (Gus), Adolph, Carl,
1/2 sister Emma, 1/2 brother William, Step brother Anton Burgan
---
If this is the Karl mentioned as a deceased son, he obviously arrived in America prior to the December 21, 1881 arrival of his parents and most of his siblings.
---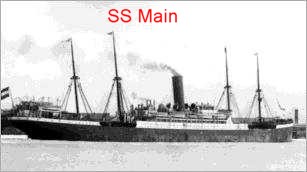 It is likely Franz (Frank Jr.) departed the Bremen Port on the Ship "SS Main" at the of age of 22, arriving in America July 30, 1880 at New York. He was traveling with his younger brother Carl, age 6.
---
Who is the surviving surviving child living in Bohemia???? The one totally ink smudged out? A Czech researcher came up with an illegitimate child born in Chcebuz, or Zebus to a Rosina Proft. This is where Franz was born. Still a few unsolved mysteries.
---
Who is this Karl? More research is needed for him. Perhaps he was the 2nd son of Franz that was born in-between Frank b. 1858 and Joseph b. 1862. If Karl died in Wisconsin, I should be able to find a death record for him in the near future.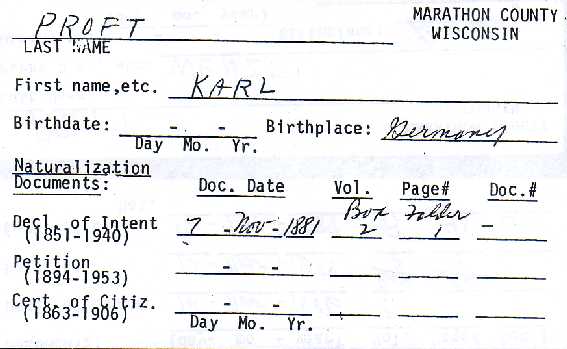 Attempting to do some more follow-up on a Lincoln County Wisconsin Death Index Entry Volume 1, Page 8 for 12-10-1887 for Carl PROFT. This record was not found in the Lincoln County Death Record Book Volume 1, or has it been indexed for the State Microfilm records. If this is referenced for the above Carl, why would it be mentioned in Lincoln County and not Marathon County? Based on the Ship Passenger List Carl arrived in America at age 6. This would mean he would have born after his sister Maria, around Sep-Dec 1874, and before his 1/2 sister Emma. There were other birth and death records mentioning Joseph Carl PROFT, but that has been confirmed as an infant death for Joseph and Bertha PROFT.
---
Ongoing research notes:
---
Mysteries to be solved
#1 Carl PROFT
#2 Daughter that remained in the old country
#3 The Fanni Proft Mystery.
She was a 3 month old infant during the 1881 voyage to America. Was she one of the 8 deceased during the trip. No notations or asterisks were made on the list for the deceased, like many other lists did.
---
This June 9, 1923 Merrill Daily Herald micro-film copy revealed a few more lines of the smudged page fold center.

Transcription below
DIES OF OLD AGE AND PNEUMONIA
MRS. KATHERINE PROFT SUCCUMBS TO SIX WEEKS ILLNESS-FUNERAL TUESDAY
Mrs. Katherine Proft died at 8:15 o'clock last evening of bronichal pneumonia and old age after six weeks illness. Death occurred at the home of her son Paul Proft 108 third and at her bedside were Mr. and Mrs. Paul Proft, Mr., Mrs. William Proft and Joseph Proft.
The deceased was born in Bohemia Nov 1, 1842 and in her native country was twice married, the first time to John Burgan, with whom she had one child, Anton Burgan, now of Green Bay. Her first husband died eleven years following their marriage and in 1875, she was united in marriage to Frank Proft, who died five years ago. Her second husband was a widower and had ten children.
Five of the latter children survive, Joseph and Paul Proft of Merrill, August Proft and Mrs. Bartel Hoffner of Bessemer, Michigan. ???? Proft of Bohemia. The five deceased step-sons are Frank, Carl, Wenzel, Anton and Adolph. With her second husband she had two children, William of Athens, Wis and Emma, now Mrs. William Hinzman of Wabeno, Wis.
The family came to Athens in 1881, that place being a wilderness at the time and known as Black Creek Falls. Seven years ago the parents came to Merrill to make their home.
The funeral services will be held at 10 o'clock Tuesday morning at St. Francis Xavier church, the Rev. Father M.A. Prock to officiate. Burial will be at the Merrill cemetery.
---
---