Proft, Wenzel (Head) Head Age 35 - Born Sep 1864 in Germany - Immigrated 1880 -Day Laborer
The family has returned from Bessemer, Michigan and apparently still resides here after Wenzel's death.
On February 27, 1891 at 2:15 P.M. Marathon County, Wisconsin Deed Records indicate Wenzel Proft of Wakefield, Michigan and his father Franz Proft of Marathon County, Wisconsin became Grantee's of the Northeast Quarter of Section Number 15, of Township Number 29, North of Range Number 3 East, as indicated in the 1901 Plat Map above. Franz was granted the North East Quarter of the North East Quarter for $200 and Wenzel was granted the South East Quarter of the North East Quarter for $300. The Grantors were D.H. Johnson, Fred Rietbrock ans L.W. Halsey themselves and their heirs or wives in this case Electra Johnson, Helen Reitbrock and Mary Halsey. It should be noted these three Milwaukee attorney families were instrumental in recruiting German immigrants to settle in the Athens, Wisconsin area. Marathon County, Wisconsin has Townships named after each of these families. They are Townships of Johnson, Reitbrock and Halsey. Fred Reitbrock is considered to be the founder of the Village of Athens, Wisconsin.
Hattie PROFT Mrs. Gerorge Moros
November 3, 1889 - July 3, 1966

Wausau Daily Record Herald Page 6, Column 4


GPS N44:59.273 W090:10.779
Google Map - Grave Location


Funeral Service Program

---


The Wausau Daily Herald
January 2, 1981 Page 4, Column 2
---
Frank F. PROFT
September 19, 1899 -August 5, 1965


April 18, 1930 Census - Frank is living alone in the Township of Johnson, Marathon County, Wisconsin.
---
Frank Frederick Proft World War I Draft Registration at 18 years old

Frank Fred Proft married Lorna Ruth Mabbott

June 5, 1934 in Colby, WI

Wausau Daily Record Herald August 7, 1965 Page 2, Col 4


GPS N44:50.580 W090:18.072

Frank Fred Proft Born September 19, 1899 in Bessemer, Michigan Died August 5, 1965

Brighton Township, Unity, Wisconsin Cemetery

Google Map - Grave Location Map


Wausau Daily Record Herald August 23, 1944 Page 4, Column 3


GPS N44:50.580 W090:18.072

Google Map - Grave Location Map

Lorna Proft Born Lorna Mabbott February 1, 1907 Died August 18, 1944

Brighton Township, Unity, Wisconsin Cemetery
---

Wausau Daily Record Herald June 6, 1942 Page 2, Column 4


GPS N44:50.579 W090:18.072
Helen Proft Born June 16, 1937 Died June 5, 1942 in Unity, WI

Google Map - Grave Location Map

Helen died 6-5-1942 10:10 A.M. of amebic leukemia in the Marshfield hospital

Brighton Township, Unity, Wisconsin Cemetery
---
April 8, 1948 - The Athens Record - D. Proft 6th Grader Tested at High School
October 26, 1950 - The Athens Record - Blue Jay Section Page 7 - Freshmen David 3.0 Honor Roll
March 26, 1953 - The Athens Record - Perfect Attendance for Freshman Donald and Junior David Proft
May 29, 1954 - The Athens Record - David Proft - 1954 Athens High School Graduate
May 17, 1956 - The Athens Record - Donald Proft - 1956 Athens High School Graduate
May 22, 1958 - The Athens Record - Phillip Proft - 1958 Athens High School Graduate
July 30, 1959-The Athens Record Wedding Article-David and Joyce PROFT
July 14, 1960 - The Athens Record "Heard Round About Town Column" Donald is home from Racine
August 25, 1960 -The Athens Record Wedding Article-Donald and Joann PROFT
June 1, 1961 - The Athens Record - Lynette Iris Proft and Cousin Thomas Proft Graduate from Athens High School


Mapquest -1031 Milwaukee Ave. Racine, WI


Mapquest 522 11th St. Racine, WI
July 9, 1964- The Athens Record "Locals" Column Mr. & Mrs Donald Proft spent the weekend with parents
Proft/Schreiber Marriage License - November 5, 1984 Marshfield News Herald
Proft/Schreiber Wedding - November 28, 1984 Marshfield News Herald
Son Nicholas Allen born to Steven and Donna Proft - August 17, 1984 Marshfield News Herald
Nicholas Proft Obituary - March 16, 1991 Marshfield News Herald
---
=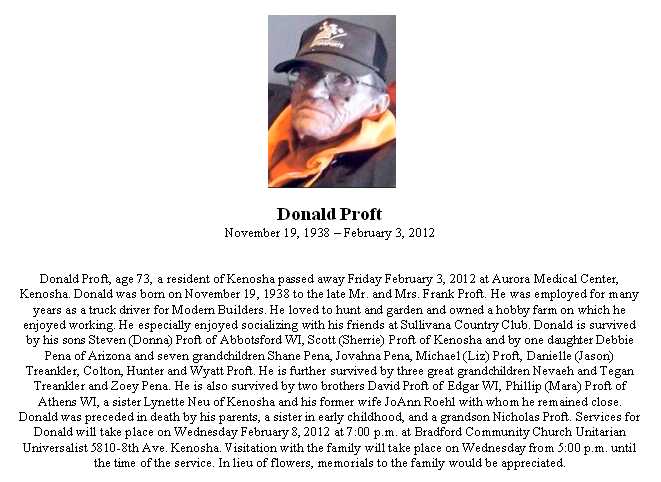 ---
May 18, 2009 - The Wausau Daily Herald - Joyce A. Proft
Joyce A. Proft - May 18 Marshfield News Herald
Joyce A. Proft - Death Notices - May 24 Marshfield News Herald
David L. Proft - Obituary - November 20, 2018 Wausau Daily Herald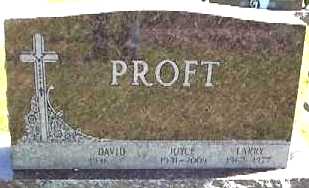 GPS N44:54.539 W089:57.742
Tributes for Joyce Proft
Google Map Link St. Patrick's Cemetery, Edgar, WI
---