Proft Genealogy
---
Father Franz (Frank Sr.) PROFT Family Picture Chart Page
---
William Frank Proft
June 16, 1884 - May 6, 1970
William lived for 85 years, 10 months, 22 days or 31, 371 days
---
Father: Franz (Frank Sr) Mother: Catherina (Katherine)
Siblings (1/2): Frank Jr. Joseph, Wenzel, Paul Sr., Anton, August (Gus), Adolph, Maria,
Karl, Emma (Sister), Anton Burgan (1/2 brother)
---
Born: June 16, 1884 in the Town of Johnson, Marathon County Wisconsin
William is listed with his father in the 1891 Athens Section of the Wausau City Directory
---
Married: Mary Mauritz June 23, 1906 in Athens, Wisconsin
Mary Mauritz's connection to the famous Waukesha native "Les Paul", recording artist, inventor of the electric guitar and multitrack recording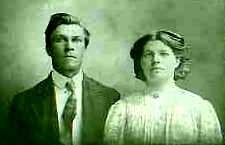 Marathon County Marriage Record Volume 3, Page 394, Record #00193, hand written No. 67. Full name of husband: William Frank Proft, Name of father of husband: Frank Proft, Name of mother of husband before marriage: Catharine Nenthal, Occupation of husband: Farming, Birthplace of husband: Cornith, Town of Johnson, Marathon, Cornith, Wis., Full name of wife before marriage: Mary Mauritz, Name of father of wife: Franz Mauritz, Name of mother before marriage: Theresia Stulz, Birthplace of wife: Waukesha, Wis, Color of the parties: White, No. and date of license: No 131 May 31, 1906, Time when marriage was contracted: June 23, 1906, Place of ceremony: Athens Marathon Co Wis, Catholic Ritual, Name of subscribing witnesses: Magdelena Proft, Ruth W Muehlenkamp.
---
World War I Draft Registration
---
1940 Sixteenth US Census - William, Mary, Frederick, Celie, Issabelle and John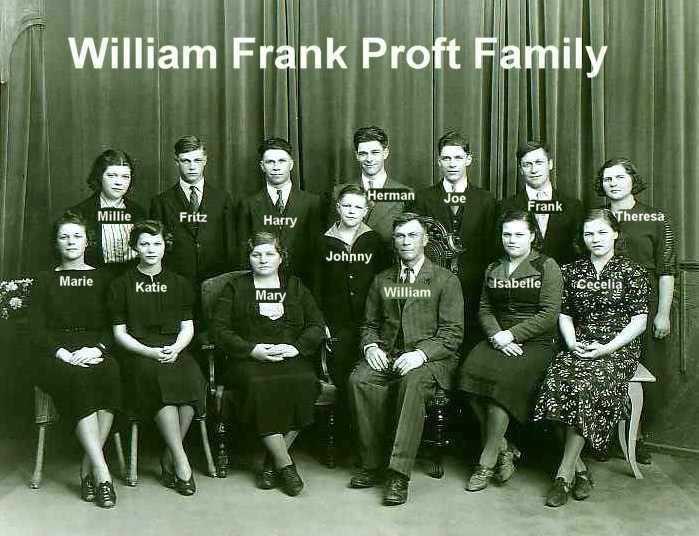 ---
---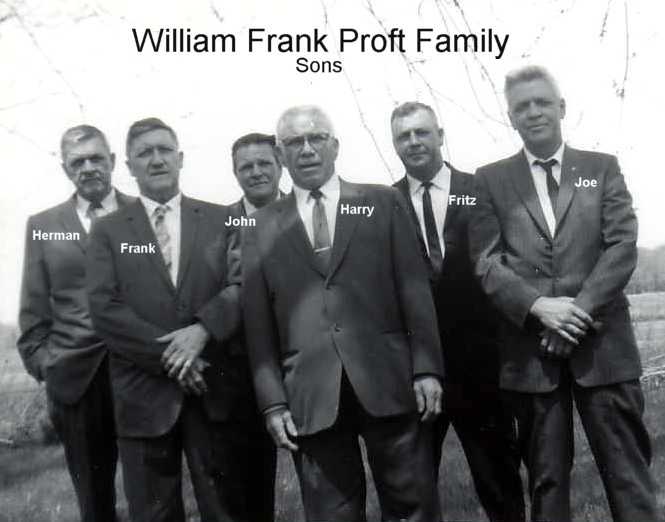 (click on image for full size)
Izzy's husband Chester along with Herman and Fred
Patricia Proft (Kohls) Pictures during a 1992 visit to the Proft farm...... | 1 | 2 | 3 | 4 | 5 | 6 | 7 | 8 | 9 | 10 |
---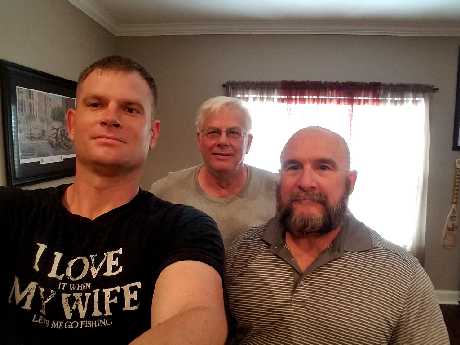 (click on image for full size)
The Proft Cousins meet in Atlanta in September 2017. Seth Proft (Black Shirt) son of Joe Proft (Back Row) who is the youngest son of Joseph Proft . Greg Proft (Right) is the son of David Proft, who is the son of Herman Proft.
---
The Athens Record Newspaper "Proft Tidbits"
June 7, 1906 "For Your Persusal Column" - Wm Proft and Mary Moritz have been licensed to marry
April 11, 1918 Corinth Column - Harry and Frank Proft from Dist No. 2 Johnson join the Junior Red Cross
June 21, 1923 Corinth Column - Harry Proft to Stratford to work on Wirkus carpenter crew, Emma (Proft) Hintzman son Frederick's Orchestra, Frank Proft at Spirit Lake
July 26, 1923 Corinth Column - Wm. Proft is putting cement floor in his barn, Harry Proft working in Marsh Rapids
August 2, 1923 Corinth Column - Millie's surprise birthday party and Mr. and Mrs. William Proft's daughter is quite sick
March 19, 1931 Ladd School Notes Perfect Punctuality and Attendance for Frederick, Cecelia and Isabella
May 14, 1931 Mother's Club of Ladd School held card party prize awarded to Herman Proft
June 4, 1931 Corinth Column - Mr. and Mrs. Harry Proft spending time with his parents Mr. & Mrs. Wm Proft
June 11, 1931 Corinth Column - Mr. and Mrs. Harry Proft return home at Wilmette after spending time with parents
February 4, 1932 Corinth Column - Mrs. William Proft and son Frank and daughters Millie and Marie visiting Theresa
May 5, 1932 Corinth Column - Misses Edna Assman and Marie Proft attended Girls Short Course in Wausau
April 7, 1932 Town of Johnson election results William 101 votes for Town Assessor
October 13, 1932 Corinth Column - Ladd School News - Celia, Isabella and Johnny Proft perfect punctuality and attenance
October 20, 1932 Corinth Column - Misses Millie and Katie Proft who are employed in Athens spent Sunday with Chauncey Walsh
October 27, 1932 Corinth Column - Wm Proft and family visited at the Chauncey Walsh home Monday evening
November 24, 1932 Corinth Column - Frank and Herman Proft and Ted Worsech left to spend several days in Phillips
April 6, 1933 Town of Johnson election results William 180 votes for Town Assessor
July 22, 1933 Corinth Column - Frank Proft at Sturgeon Bay picking cherries Tuesday
October 3, 1940 Locals Column - Mr. and Mrs. Harry Proft and children returned to Wilmette, IL
May 29, 1941 Corinth Column - Mrs. Celia Proft of Winnetka and her two nephews Billy and David are spending a week at the Wm Proft home
June 5, 1941 - James Proft and Isabelle Proft graduate from Athens High School
December 4, 1941 - Physical Exams for Draftees in Rhinelander for Frederick J.Proft 23, Town of Johnson
January 5, 1943 Corinth Column - Wausau Daily Record-Herald - Isabel Proft returned to Wausau after visiting parents
March 11, 1943 Corinth Column - Miss Marie Wade and Celie Proft spent a few days with parents and returned home to Wilmette
July 8, 1943 Corinth Column - Isabel from Wausau spent time at parents and went fishing at Lake of the Pines
December 9, 1943 - William Proft Pallbearer for Mrs. John Mauritz funeral
January 27, 1944 Corinth Column - Mr. and Mrs. Ted Worsech visiting his mother in Phillips
August 10, 1944 Corinth Column - Miss Isabel Proft who is employed in Wausau is enjoying several days vacation at her home
November 30, 1944 Corinth Column - Cpl and Mrs. Joseph Proft and son Donald, Mrs. Herman Proft and son David
June 27, 1946 Corinth Column - Mr. and Mrs Russell Madson and son John and Isabelle home visiting Milwaukee and back to Wilmette
October 10, 1946 - Miss Isabelle Proft a bridesmaid for Stallman-Savino Wedding
February 14, 1947 - William Proft nominated for Town Assessor
April 3, 1947 - William Proft returned to Town Assessor with no opposition
July 31, 1947 - Mrs. Frank W. Proft recuperating at St. Mary's hospital after operation
June 16, 1949 Page 1 - Proft does not get at bat - Athens Legion Junior Baseball Team loses Marathon Game
June 30, 1949 Page 1 - Proft is catcher on the Athens Legion Junior Baseball team loses to Abby Jr 7-2
July 7, 1949 - Madson and J. Proft fishing near Merrill - Mr. and Mrs Joseph Proft and family are visiting parents home
July 14, 1949 Corinth Column - William Proft children return to their respective homes after visiting
August 18, 1949 "Locals" Column - Mr and William Proft and son and visited the Town of Frankfort
August 25, 1949 Corinth Column - Mrs. Marie Wade Willmette, IL visits her parents Mr. and Mrs.William Proft - Theresa and Ted Worsech have visitors
August 25, 1949 "Locals Column" - Mrs. Marie Wade returns home - Ted Worsech and William Proft families have visitors
April 13, 1950 "Heard Round About Town" Column - Mr. and Mrs. Russell Madson and family of West Allis spent the Easter holiday at the William Proft home
May 25, 1950 Corinth Column Theresa and Ted Worsech fishing last Sunday in Phillips
July 20, 1950 Corinth Column - Mr. and Mrs. Russell Madson and family, Willmette, Ill are visiting with her parents
June 1, 1950 - Robert Proft received High School Award for Baseball
June 22, 1950 - Robert Proft listed in Softball box scores playing for the Skylite Club
September 28, 1950 - Athens H.S. Baseball Beats Rudolph Robert Proft get 2 Hits
March 22, 1951 Corinth Home Makers Meet - Mrs. Frank Proft Hostess - Mrs. Theodore Worsech guest
March 28, 1953 - Alice Jean Proft graduates from St. Anthony's School
August May 19, 1955 - Social & Personal Items - Isabelle Proft Weds Abbotsford Man May 7
May 19, 1955 - Athens Record - James Proft - 1955 Athens High School Graduate
March 29, 1959 - Miss Milly Proft Chicago, spent the weekend with her parents
October 16, 1958 Specialist 4th Class James Proft arrived home after receiving his discharge
January 8, 1959 Robert Proft Marries in Stratford Ceremony
June 1, 1961 Thomas A. Proft and Lynette Iris Proft Graduate from Athens High School
March 1, 1962 Tom Proft at Ft. Chaffee
May 9, 1963 Tom Proft to Wed in ME
March 6, 1964 Army PFC Tom Proft to participate in exercise HIGH TOP II
---
William was the only child remaining on the Athen's area farm during the 1900 Census
---
1910 - Thirteenth Census Marathon County Township of Johnson
Proft, William (Head) Age 25
Proft, M. (Wife) Age 27
Proft, Theresa (Step Daughter) Age 6
Proft, Harry (Son) Age 4
Proft, Frank (Son) Age 2
Proft, Emilia (Son) Age 9/12

---




1922 Wausau City Directory (Marathon County Section)
---


192

5 Wausau City Directory (Marathon County Section)
---

Wausau City Directory (Marathon County Section)
---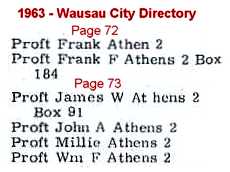 William's Family during the 1930 Census
---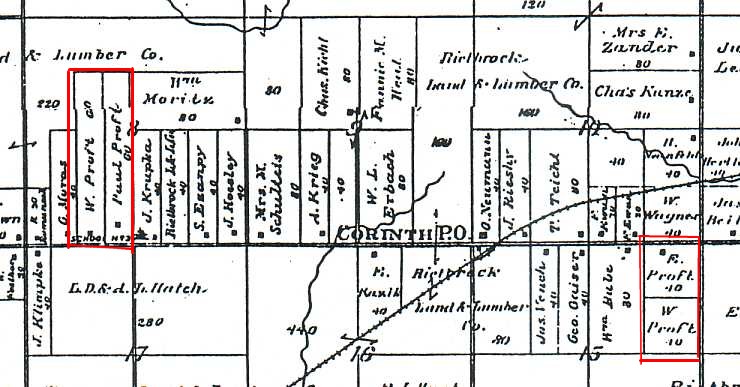 1901 plat book excerpt compliments of the Marathon County Historical Society
William Frank Proft farm location Google Map link
William Frank Proft farm location Google Map Long/Lat link
---
Father William | Mother Mary
June 16, 1884 - May 6, 1970 | December 15, 1882 - April 15, 1959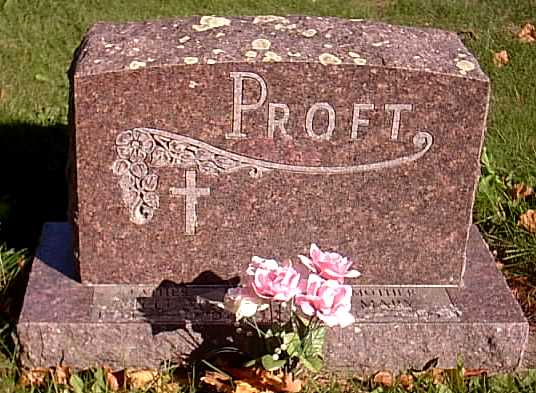 GPS N45:02.036 W090:04.009
Athens, WI Calvary Cemetery Sec 5, Lot 28, Grave 5 & 6
Google Map - Grave Location Map
---



William Proft Jr
September 19, 1910 - September 26, 1910


GPS N45:02.036 W090:04.009
Athens, WI Calvary Cemetery Sec 5, Lot 28, Grave 3
Baby died 9-26-1910 5 P.M. of convulsions
---
Theresa (Mauritz) Woresch

Born 2-17-1904 Died 2-21-1984 at Age 80

Stepdaughter of William PROFT and daughter of Mary (Mauritz) PROFT

"The BEE" , Phillips, Wisconsin March 1, 1984 C3, Column 1

"The BEE" , Phillips, Wisconsin

April 1, 1971 Page 9, Column 4
---
Frank W. and Edna Proft
January 13, 1908 - July 8, 1972 February 6, 1910 - December 8, 1993


April 21 & 22, 1930 Census - Frank, age 22 is lodging at

710 Park Ave. Willmette, IL
---
Robert F. Proft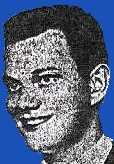 March 10, 1934 - June 13, 1959
Eldest son of Frank and Edna Proft
December 30, 1958 - Marshfield News Herald - Mrs. Robert Proft
January 8, 1959 Athens Record - Robert Proft Marries in Stratford Ceremony
June 8, 1959 - Marshfield News Herald - Robert Proft, 23 Drowns in Lake
---
---
---
Alice Jean Proft
Mrs. Robert Gurlaski
March 28, 1953 - Alice Jean Proft graduates from St. Anthony's School
May 30, 1957 - Athens Record - Alice Jean Proft graduates from Athens HIgh School
---
Thomas A. Proft Family
June 1, 1961 Thomas A. Proft and Lynette Iris Proft Graduate from Athens High School

March 1, 1962 Tom Proft at Ft. Chaffee

May 9, 1963 Tom Proft to Wed in ME

March 6, 1964 Army PFC Tom Proft to participate in exercise HIGH TOP II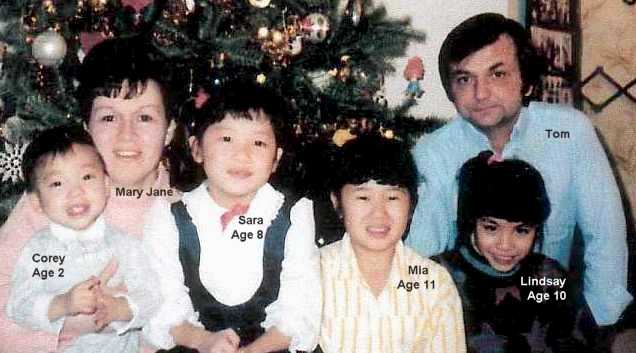 (Click on image for full size)
| Jalen Proft - February 4, 1998 - August 21, 2021 - Obituary |
---
---
---
Emilia (Millie) Proft


July 27, 1909 - February 25, 1999




(click on image to enlarge)

Millie was the eldest daughter of William and Mary Proft

Town of Johnson Homemakers linked articles below


Jun 14, 1962 Sep 20, 1962 May 9, 1963 Jul 18, 1963 Aug 15, 1963


GPS N45:02.035 W090:04.004
Calvary Cemetery - Athens, WI
Sec 5, Lot 28, Grave 2


Wausau Record Herald February 27, 1999 Section 9A, Col 4
---
Marie Proft (Mrs. Paul Severenson)
August 19-1913 - February 5-1983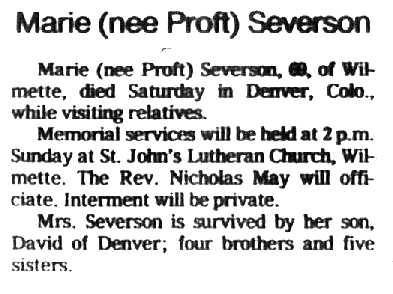 Wilmette News - Pioneer Press - 2-10-1983 page 24, col 3 and 4
---
Joseph E. Proft
January 23-1916 - December 21-1998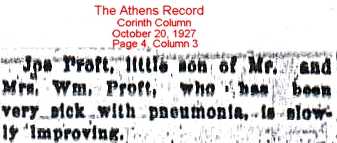 1940 Sixteenth US Census - Joseph Proft
Joseph and Helen are residing at 620 Praire Avenue, Wilmette, IL

Memorial Park - Skokie, IL - Google Map
Proft/Garcia Wedding Engagement - July 7, 2001 - Marshfield News Herald
Seth and Annika Proft Wedding - February 2, 2002 - Marshfield News Herald
---
Harry Proft
September 1, 1906 - December 13, 1981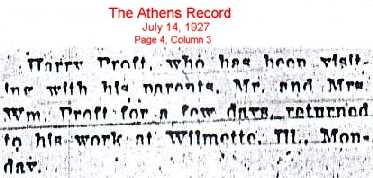 April 28, 1930 Census - Harry, age 25 is lodging at

1225 Central Ave. Willmette, IL

1940 Sixteenth US Census - Harry Proft

Harry, Wife

Angelina, son's Richard, William and sister Millie are residing at 1429 Gregory Avenue, Wilmette, IL




Click on image of Harry's wife Angelia (Barnaby) Proft for full image

Residence location Port Richey, Florida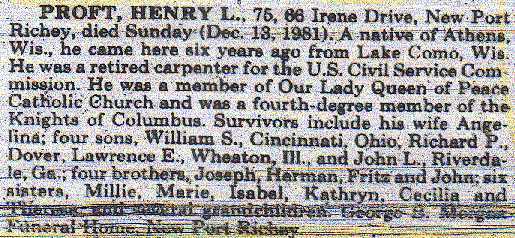 Misprint on first name, should be "Harry"
St. Petersburg Pasco Times December 14, 1981 Page 10, Column 4
---
Herman George PROFT
April 17, 1912 - December 22, 2003


(Click on image to enlarge)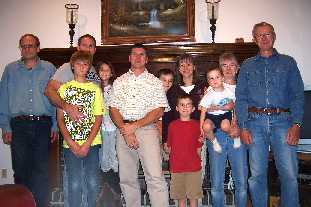 (Click on image to enlarge)
David Proft Family November 2009

Pictures of Herman's June 1994 visit with Margaret Rach | 1 | 2 | 3 | 4 | 5 | 6 | Heide, Dick and Greg Proft | Dick-Greg Proft | | MSGT Greg Proft 1 | MSGT Greg Proft 2

Residence location Lead Hill, Arkansas


Harrison Daily Times of North Arkansas December 30, 2003
Buried in Sacramento Valley National Cemetery BURIED AT: SECTION 15 SITE 691
Google Map - Sacramento Valley National Cemetery Location
Wife: Albina Natasia Proft 06-20-1915 - 04-08-2002 is buried with Herman in Section 15 Site 691
1940 Sixteenth US Census - Herman Proft Excerpt
Herman, Wife Albina and son David are residing 623 Prairie Avenue, Wilmette, IL
---
John A. PROFT
June 20, 1926 - October 7, 2009

---
Black Creek Falls, currently Athens, WI - History Link
Download pdf 1890-1990 Athens Centennial- History Booklet
---
1895 Plat - Wisconsin, Marathon County, Johnson Township, Section 15, NE, William Proft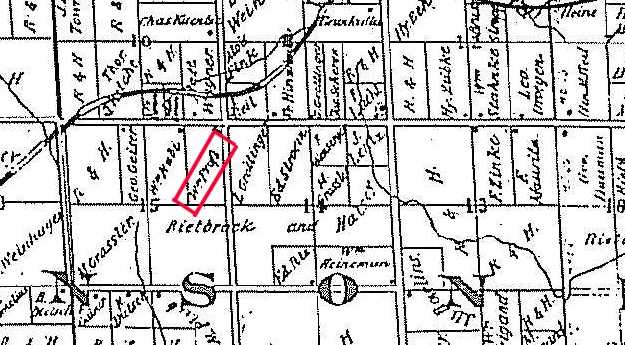 1920 Plat - Looks like William also has 40 acres in Section 14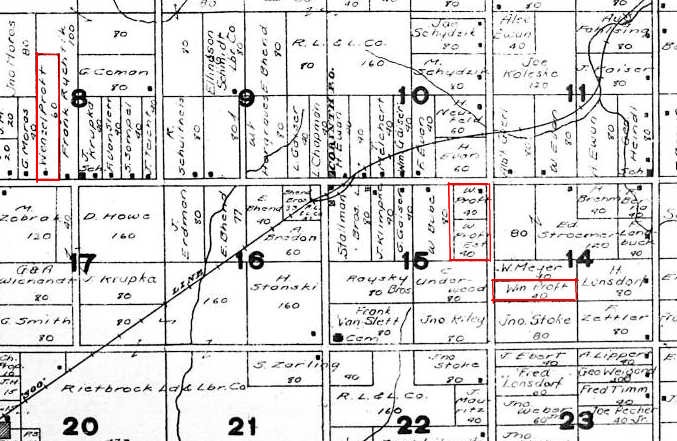 ---
Katherine PROFT
August 5, 1917 or July 20, 1917 - April 5, 2013
Katherine's Obituary | Katherine's Husband Frank Sauter Obituary
Katherine Picture Katherine Picture
1940 Sixteenth US Census - Katherine Proft
Sister Marie and the Ameche Kids, picture likely taken by Katie
Katherine is residing at Don Ameche's residence at 17085 Louise Ave, Los Angles, CA
1940 Sixteenth US Census - Preceding Census Page with Don Ameche's family listings
---
Cecelia Mae (Proft) Madson
April 29, 1921 - July 30, 2015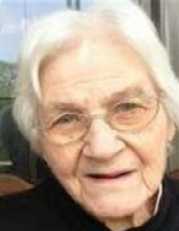 Celie's Husband - Russell Madson's Obituary
Russ & Cel's Letter Picture Identifications (pdf document)
Grandpa Mauritz Family Pictures (Click on Image For Full Size Picture)
---
Isabelle "Izzy" Margaret Jacobi (Proft)
Monday, October 9, 1922 - Monday, July 31, 2017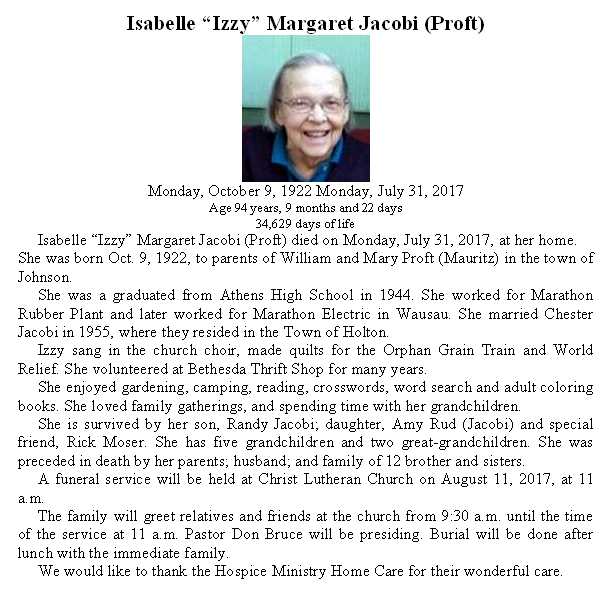 Printable PDF
---