Proft Genealogy
---
Father Franz (Frank Sr.) PROFT Family Picture Chart Page
---
Maria (Mary) PROFT
November 19, 1872 - January 5, 1928
---
Maria lived for 55 years, 1 month and 17 days or a total of 20,134 days
November 19, 1872 - January 5, 1929
Father: Franz; Mother: Theresa Wolf
---
Father: Franz (Frank Sr.) Mother: Theresia Blum
Siblings: Frank, Joseph, Wenzel, Anton, August (Gus), Adolph, Karl,
1/2 sister Emma, 1/2 brother William, Step brother Anton Burgan
---
Maria was 7 years old when she made the December 1881 voyage to America with her family
---
The first census "1885 Wisconsin", where Franz's family is recorded after immigrating to US

June 20, 1885 Wisconsin State Census for Marathon County, Township of Johnson indicates a misspelled last name beginning with the Letter "B" instead of "P". Household of 5 males (Franz, August, Anton, Anton BURGAN) and 3 females (Catherina, Maria, Emma) - 1 born in US (William) and 7 born in Germany. Paul was likely on his own during this census.
---

Mary (Maria) is living with her brothers according to this 1888 Wausau City Directory
---
Maria (Mary) married Bartel Hoffner September 4, 1893 in Bessemer, Michigan
Gogebic County, Michigan Marriage Record Liber 1, Page 68
License #1020 Issued 8-28-1893, Marriage Date 9-4-1893
Groom: Bartel Hoffner age 28, Laborer, born in Germany
Groom's Parents ; Frank Hoffner and Elise Hensle
Groom's Witness: August Proft, Bessemer
Bride: Mary Proft, age 19, born in Germany
Bride's Parents: Frank Proft and Theresa Wall * (Wolf)
Bride's Witness: Mary Hoffner
Ceremony performed by W. Joister, Minister
---
Children: Frank b.1893 d.7-13-1952, Tressa/Rachael? b.1896 d.10-1941, Emma b.1897 d.5-28-1973, Clara b.1899 d., Joe, b.1906
---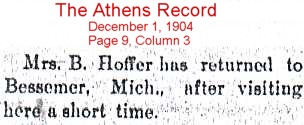 Maria (Mary) was visiting relatives in the Athens area during the time
her 1/2 brother Anton Burgan was married to his 2nd wife Emma (nee Zander) Ludwig
---
April 18, 1910 - 13th United States Census
Sophie Street - City of Bessemer, Gogebic County Michigan
Hoffner, Bartel Age 48 (Head)
Hoffner, Mary Age 38 (Wife)
Hoffner, Frank Age 17 (Son)
Hoffner, Tressa (Rachael?) Age 14 (Daughter)
Hoffner, Emma Age 13 (Daughter)
Hoffner, Clara Age 11 (Daughter)
Hoffner, Joe Age 5 (Son)

---
Maria and her family are listed in 1928 Bessemer City Directory
Mapquest - Hoffner Residence Location - 311 Sophie Street
---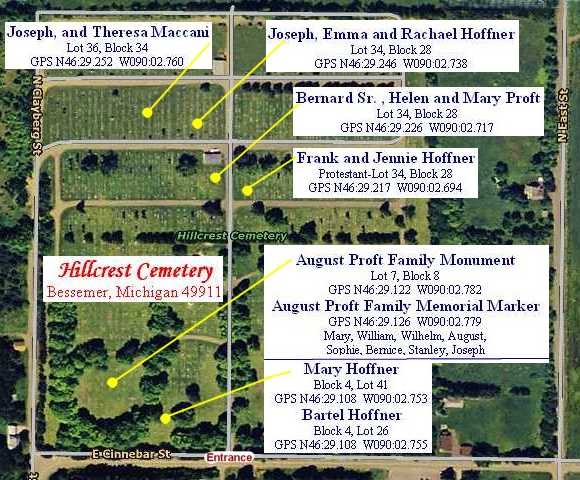 Most of Mary (nee Proft) Hoffner's family and her brother August Proft's family are buried in Hillcrest Cemetery
---
Hoffner Children
Frank, Tressa/Rachael, Emma, Clara, and Joe
---
---
---