Proft Genealogy
---
Franz Proft Family Picture Page
Joseph Frank Proft Family Page
---

Adolph Proft
March 13, 1890 - July 25, 1961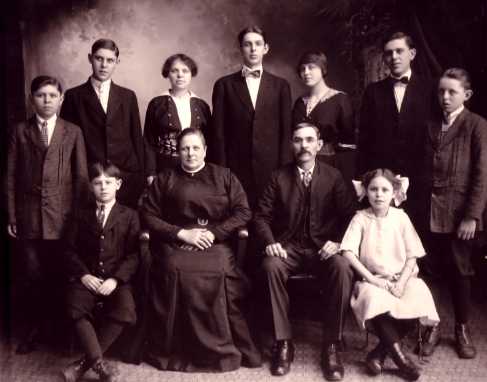 Point and click on a Proft above for more information
---

Adolph Proft lived for 71 years, 4 months, 12 days or a total of 26,066 days
Born: Thursday - March 13, 1890 in Wausau, Wisconsin
Adolph was born 9 days after Benjamin Harrison had just completed his first year in office as the 23rd President of the United States. William D. Hoard was Governor of Wisconsin.
It should be noted that the German community resented Governor Hoard for his leadership in passing the 1889 "Bennett Law", a law requiring the use of the English language in schools.
Adolph's Grandfather Frank Joseph Proft
---
1900-1901 Merrill City Directory Historic Informational Pages
Household members during 1905 Wisconsin Census
---
Merrill's First Passenger Train May 18, 1885
1900-1909 Merrill Passenger Train
Merrill Train Depot with the old St. Francis Xavier Church where the Proft's attended
---
Married Signa Carlson May 14, 1917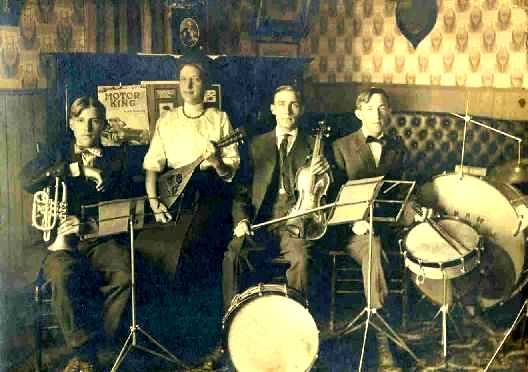 Signa, Adolph's future bride to be with her ukulele and her brother George (holding the violin). The flugehorn player and drummer are unknown. Location believed to be Mason, Wis, where Adolph met Signa.

Signa, age 10, living with her family during the 1900 Census in Mason, Wisconsin
Where is Mason, Wisconsin? Click Here
---
1913 Postcard of Adolph's workcrew sent to his mother Bertha, will be home for the Fair.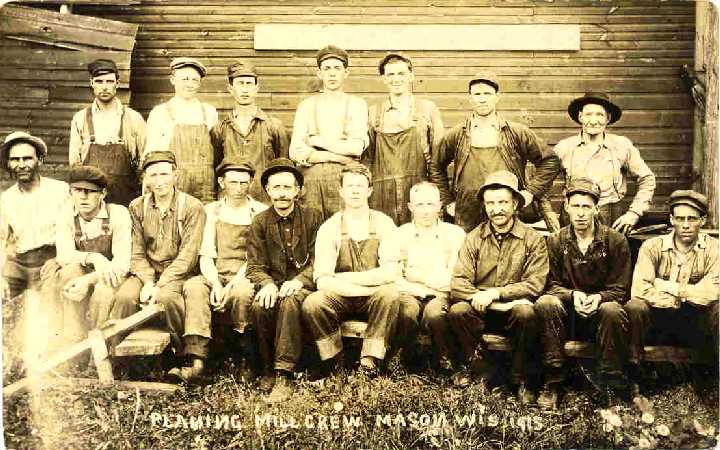 Adolph is the tallest one in the middle of back row (arms folded). Planing Mill Crew - Mason, Wis - 1913
White River Lumber Company - Mason, Wisconsin was main lumber company in the area at this time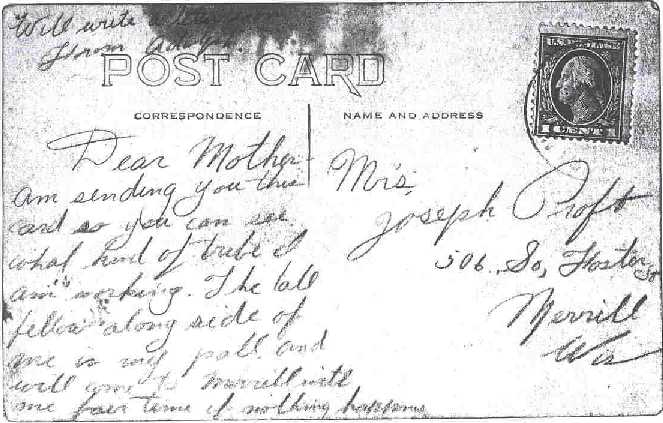 I think it costs more than a penny to send a postcard these days
---
Adolph's Bingo Tent, while working with the circus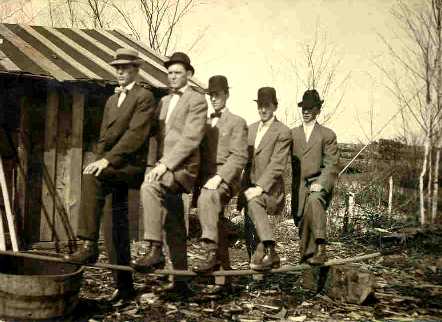 "The Minnesota Rough Necks" Adolph is the first person on the left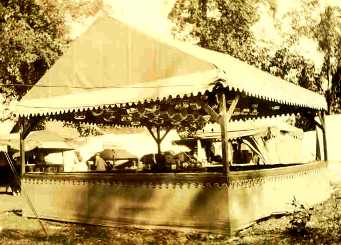 Click to Enlarge
The 6 Proft Brothers
---
Draft Registration records indicate (below) at age 27 resided at 42 8th, Cloquet, Minnesota employed at Northern Lumber as a Lath Shover
Cloquet, MN 1918 Fire Pictures submitted by Lois Proft
Adolph, Signa and oldest son Sherman lived in Cloquet at the time of the fire. They also had Signa's mother with them. They left Cloquet on the railroad flat bed Signa grabbed some diapers for Sherman and they had to load her mother's wheelchair onto the train. I believe they stayed in Duluth for a while. However they did return to Cloquet because Roy was born there in l922. Adolf worked at Falk during the war and at first lived with Frank and then moved his family to Milwaukee in the middle 1930's.
---

1925 Merrill City Directory Excerpt
Mapquest - 1400 Cotter Ave., Merrill, WI
---

1932 Milwaukee City Directory Page 1283
Mapquest - 4660A Medford Ave., Milwaukee, WI
---

April 9, 1930 Census -Joseph, Adolph, Signa, Sherman, Roy and Mildred all living In Merrill's 6th Ward.
---

1936 Merrill City Directory Page 112 Excerpt 506 S. Foster St
---

1941 Milwaukee City Directory Page 928 Excerpt
Adolph, Signa, Roy and Sherman are residing at 3240 N. 35th Street Milwaukee, Wisconsin
---

1959 Milwaukee City Directory - Page 1103 Excerpt -
2925 W. Clarke St. Milwaukee, WI
---
Died: Tuesday - July 25, 1961 in Milwaukee, WI
2925 W. Clarke St. Milwaukee, WI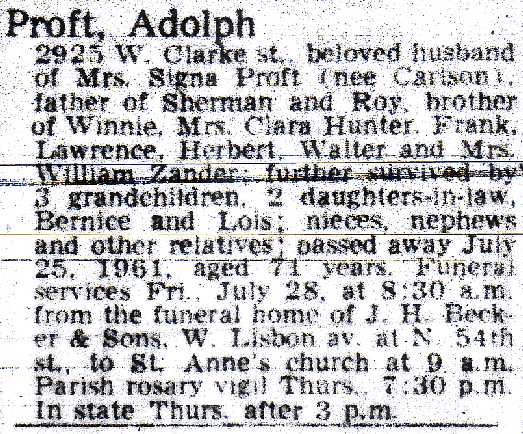 Milwaukee Journal July 27, 1961 (Part 3)

Location: GPS N43:05.477 W088:02.702
Google Map - Grave Location Map
Buried Pinelawn Memorial Park - Hwy 100 and Capitol Dr. Milwaukee, WI
Pinelawn Memorial Park Website
---
Married Signa Carlson May 14, 1917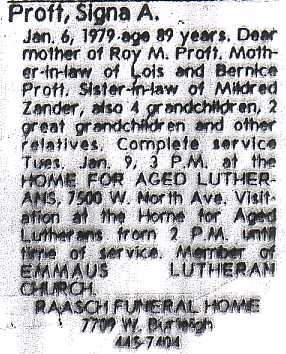 Milwaukee Journal January 8, 1979 Part 2, Page 4
Signa was born January 21, 1889, died January 6, 1979 and was buried January 9, 1979
---
Two children: both born in Carlton County/Cloquet, Minnesota - Sherman Leslie PROFT (b.11/27/1917 1:30PM; d.Nov 29, 1962), Roy Milton PROFT (b. 6/16/1922 4:15AM;d.April 28, 1981)
Signa, Sherman and Roy are also buried in Pinelawn Memorial Park
---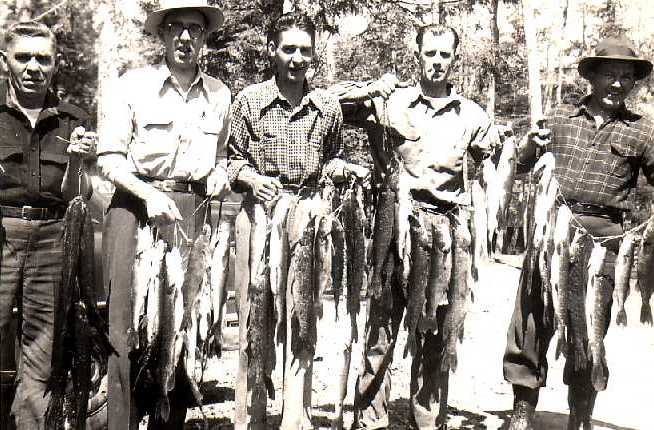 Lawrence, Sherman, Roy, (friend of Roy's) and Jake Anderson of Merrill
Fishing expedition results from somewhere near Minocqua
---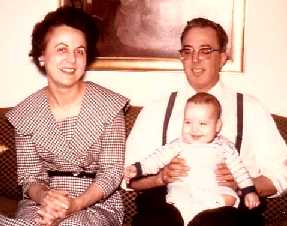 Bernice, Sherman and Michael, picture taken in late 1961 or early 1962, (Print processing date stamped FEB 1963)
---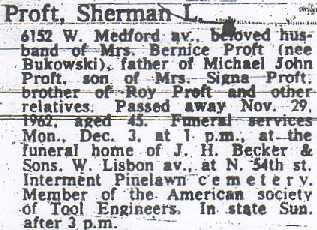 Milwaukee Journal December 1, 1962 Page 16 Col 6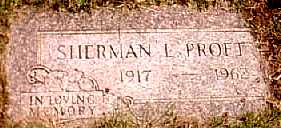 Location: GPS N43:05.477 W088:02.701
Google Map - Grave Location Map
---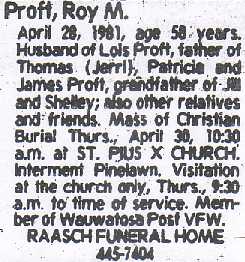 Milwaukee Journal April 29, 1981 Page 12 Col 9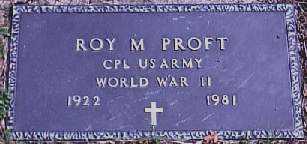 Location: GPS N43:05.477 W088:02.699
Google Map - Grave Location Map
---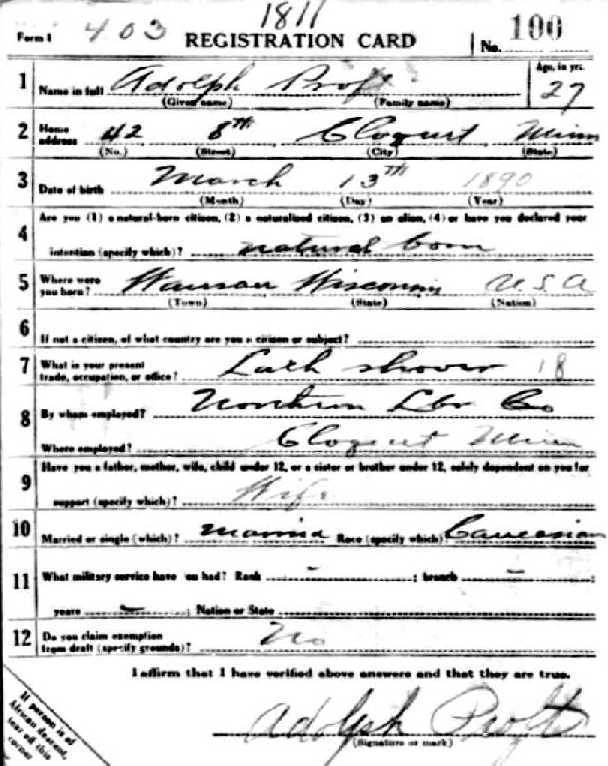 ---