Proft Genealogy
---
Grandfather Franz (Frank Sr.) PROFT Family Picture Chart Page
---
Joseph Frank Proft Family Page
---

Herbert Anthony Proft
Decmber 7, 1901 - October 20, 1966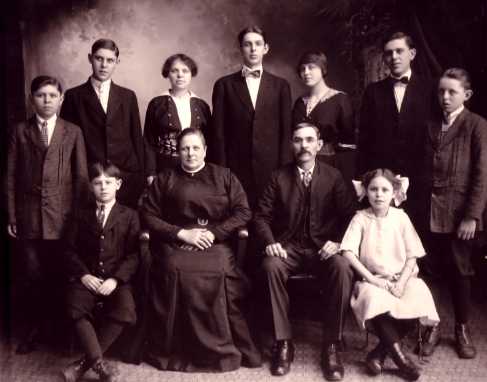 Point and click on a Proft above for more information
---

Herbert Anthony Proft lived for 64 years, 10 months, 18 days or a total of 23,698 days
Born: Saturday - December 7, 1901 in Merrill, Wisconsin
Lincoln County Birth Record Vol 2 - #1802 or hand written No. 14 indicates a Herbert Anthony Proft, white male born to Joseph Proft and Bertha Harter on Sat Dec. 7th, 1901 10:40 P.M., delivered by Mrs. H.P. Stiefvater, Midwife. Others in household were listed and spelled as Wenzle, Adolf, Clary, Frank, Lorner. Household located in Merrill, Wis. Other Information line indicates Item #1, "Name of Child" was recorded 4-24-43 per letter of "self". This explains the hand printing of his name versus the handscripting of the other record information.
Herbert was baptized Wednesday, Jan 1, 1902 at St. Francis Xavier Catholic Church, Merrill, WI as recorded in Baptismal Register Index 1896-1906, Page 142.
---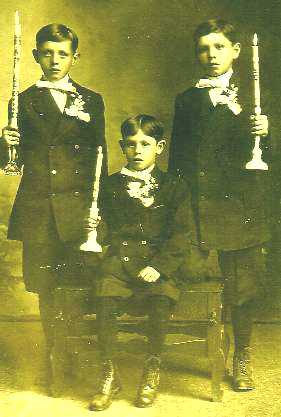 First Communion - Herbert, Walter and Lawrence Proft
---
Herbert is 3 years old during this 1905 Wisconsin Census
---
As a child Herbert would have gone to Merrill's 6th Ward School
Merrill Daily Herald June 3, 1916 - Herbert Graduates St. Francis Xavier School 8th Grade
---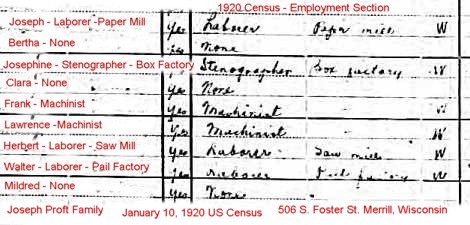 ---

1925 Merrill City Directory Page 139 excerpt containing misspelling of last name ( l instead of r ).
---
Married Mary Pfarr June 29, 1927
Ohio Marriages 1800-1958
Groom's Name: Herbert A. Proft
Groom's Birthplace: Merrill, Wisconsin
Bride's Name: Mary Rose Pfarr
Bride's Birth Date: 1907
Bride's Birthplace: Foster, Ohio
Marriage Date: 29 Jun 1927
Marriage Place: Butler Co, Ohio
Groom's Father's Name: Joseph Proft
Groom's Mother's Name: Bertha Harter
Bride's Father's Name: Michael Farr Or Pfarr
Bride's Mother's Name: Catherine Thompson
Indexing Project (Batch) Number: M86855-6
System Origin: Ohio-VR
Source Film Number: 0355796
Reference Number: 2:3KMHX3Q
---
Mary Pfarr Born: June 23, 1907
Ohio Births and Christenings 1821-1962
Name: Mary Anna Pfarr
Birth Date: 23 Jun 1907
Birthplace: Deerfield Tp., Warren, Ohio
Father's Name: Michael Pfarr
Mother's Name: Katie Thompson
Indexing Project (Batch) Number: C04053-4
System Origin: Ohio-EASy
Source Film Number: 384210
Reference Number: v 3

---
Worked for State of Ohio Liquor Control

April 7, 1930 Census Herbert, Mary and Shirley resided at 1772 Williams Ave. Hamilton, Ohio
---
1940 Sixteenth US Census Herbert Excerpt
Herbert, wife Mary and daughter Shirley are residing at 1211 Curtis St, Middletown, OH
Herbert stated his employment as a "Watchman at a Steel Mill" and Mary stated her employment as "working at a Tobacco Factory". ARMCO Steel Mill and American Tobacco, a/k/a Sorg and Polar tobacco factories were large Middletown employers at that time.
---


Click to Enlarge
The 6 Proft Brothers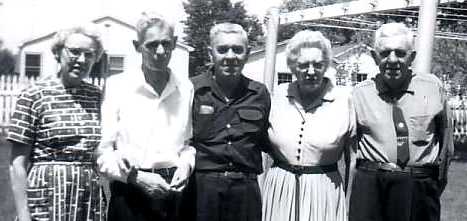 Denver 1963 - Mary, Herbert, ? and Winnie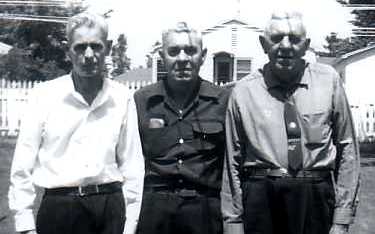 Herbert, Lawrence and Winnie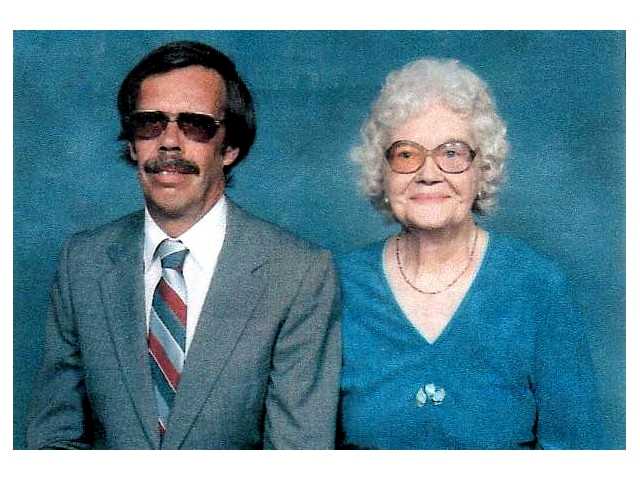 Thomas at age 42 and Mary at age 80 - 1987 Photo
---
Resided at: Google Map - 1211 Curtis St., Middletown, Ohio
---
Died: Thursday - October 20, 1966 at Middletown Hospital
Buried in Woodside Cemetery _ Google Map
Woodside Cemetery just one block south of his previous residence. Section 29, Lot 22, Grave #1

Middletown Journal October 21, 1966 Page 2
---
Married June 29, 1927 to Mary Pfarr b.6-23-1907 d.1-3-1997

M

ary retired from the William Harrison Insurance Agency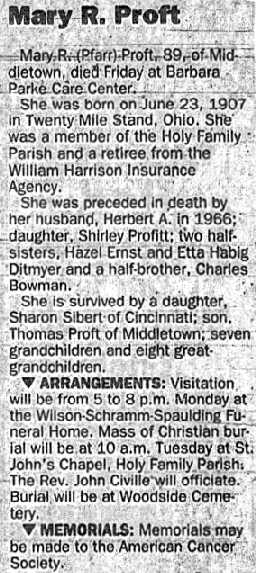 Middletown Journal January 5, 1997
Mary was interred in Woodside Cemetery, Section 29, Lot 22-B, Grave #3 on Jan. 7, 1997 at age 87.
---
Children: Shirley Ramona PROFT (b.3-23-1929 d.1-20-1995 obit page 6C Columbus Dispatch) (sp. Luther Profitt b.7-3-1929), Sharon Kay PROFT Sibert (b.1943) (sp.Robert Sibert), Thomas Herbert PROFT (b.1945) MIDDLETOWN, OH
---
Shirley Ramona (nee PROFT) Profitt
March 23, 1929 - January 20, 1995

Married: Luther Profitt
Children:
Vicki Pollchhick b. 1951 of San Diego, CA
Penny b. 1958 m. 6-4-1977 (Rick) Weaver of Groveport
Michael J. b. 1960 m. 2-26-1996 (Katherine A. Gossett ) Profitt of Pickerton div.2-26-1996
m. 6-23-2000 Tracy R. Gentry


Grandson: Tyler Profitt
Scott McNaughton

The Columbus Dispatch (OH) - January 20, 1995 - Shirley R. Profitt, age 65, of Reynoldsburg, died Friday at Kobacker House. Member of St. Pius X Church. Survived by husband, Luther, at home; son, Michael J. (Kathy) Profitt, Pickerington; daughters, Penny (Rick) Weaver, Groveport and Vicki Pollchik, San Diego, Calif.; grandchildren, Tyler Profitt and Scott McNaughton; brother, Tom Proft, Middletown; sister, Sharon Sibert, Cincinnati. Friends may call Monday 2-4 and 7-9 p.m., COTNER FUNERAL HOME, 7369 E. Main St., Reynoldsburg. Funeral Mass Tuesday (time later), St. Pius X Church, 1161 S. Waggoner Rd., Reynoldsburg. Interment Glen Rest Memorial Estate.


Buried at Glen Rest Memorial Estate - Google Map

Born: Cincinnati , Hamilton County, Ohio
Died:Columbus, Franklin County, Ohio
Ohio Deaths Certificate: 002639; Vol: 30103

---